If you want to add a calendar event on your WordPress websites then in these articles we are going to check the top 3 WordPress plugins for your theme.  You probably just want to learn about the plugins! So let's dive right in, starting with the most popular option.
1.  Modern Event Calendar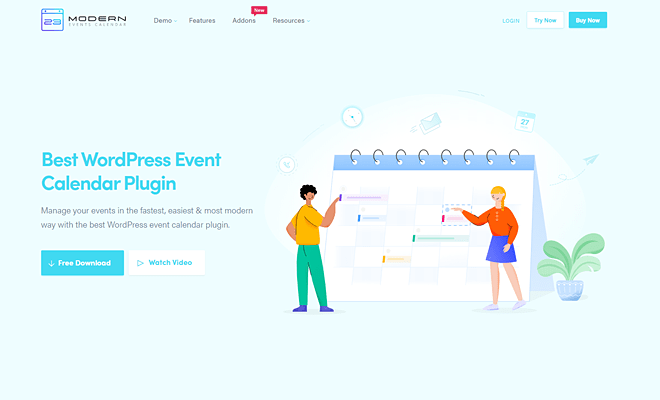 Modern Events Calendar added more than 40+ calendar views all based on the latest design trends in the web design world which brings a unique experience to its users. It's come in both free lite version with at WordPress as well as premium version. You can change the default look of the calendar in the settings and adjust your calendar style to your website more than ever. All the designs are fully responsive, which means your clients will be able to make bookings from any electronic device conveniently.
The plugin provides you with a powerful booking system with a simple builder interface to help you create calendar events fast and easily. It's also provided integration with Google Maps and Google Calendar gives you a chance to connect a physical location and connect two services to share events on both platforms. Also, the plugin supports integration with PayPal and WooCommerce.
Modern Events Calendar has two versions:
2.  The Events Calendar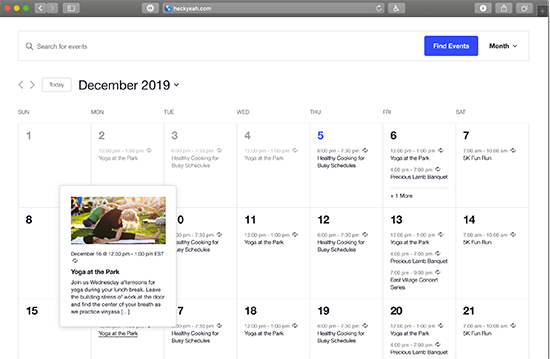 The Events Calendar is the most popular events plugin at WordPress.org by a longshot. It's active on over 600,000+ sites. It comes in both a free, and a premium version, which gives you access to as much, or as little, functionality as you need.
In the free version, you can create unlimited events, complete with their own:
You can save venues and organizers, which makes it easy to reuse them for events in the future
And to display your events, you get the eponymous calendar view, as well as an upcoming events list widget to use in your sidebar.
Another notable feature is the ability to save events in Google Calendar or iCal.
The Event Calendar has two versions:
3. Event Espresso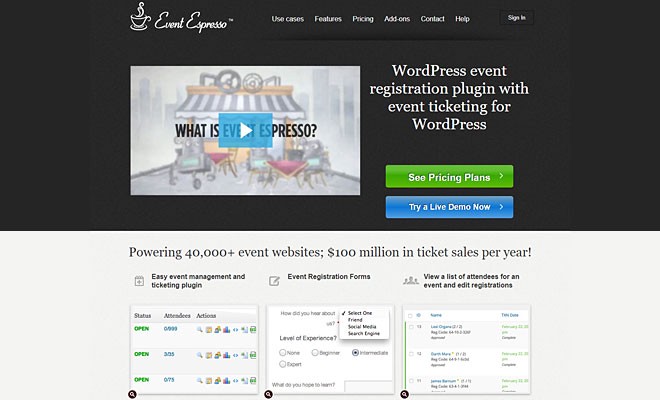 The third plugin in the list of the best WordPress event calendars is Event Espresso.
Event Espresso sets you up with a detailed events' management system including:
Time-specific or all-day events
Location/venue information
Multiple days and times for one single event
Google Maps integration
With the help of this event calendar, website administrators will be able to easily manage their events and set different options for tickets and pricing them.
Also, the plugin enables you to set different groups when signing up, setting different times and dates for an event, using simple payment pages, setting up several types of tickets for users, and sending confirmation emails for buyers.
This WordPress event calendar has several configuration options for multiple ticket rates and the simultaneous sale of multiple tickets. The Event Espresso add-on has a great payment processing feature that gathers all the revenue from each port and integrates it into a consistent system. It also allows participants to even pay for their invoices offline. This plugin also controls all payments.