If you want to add a calendar event on your WordPress websites then in these articles we are going to show you the top WordPress plugins for your theme. You want to learn about event calendar plugins! So let's dig deeper, starting with the most popular option.
The Feature of the Best WordPress Calendar Plugins
Show your availability for customer reservations or events.
Allow customers or groups to book themselves in those free moments.
Request customer data and store it in a customer database for future use.
Enter the event in your calendar & Send confirmation notifications to the parties involved in creating the event.
Send updates on event changes. It is also important that your calendar plugin contains important information such as time and date of the event, how many people will be involved, what equipment is needed, who needs to be present, staff needed and other relevant logistics.
Now, let's take a look at some of the best WordPress calendar plugins to help schedule your work meet and your clients' booking experience.
1. Modern Event Calendar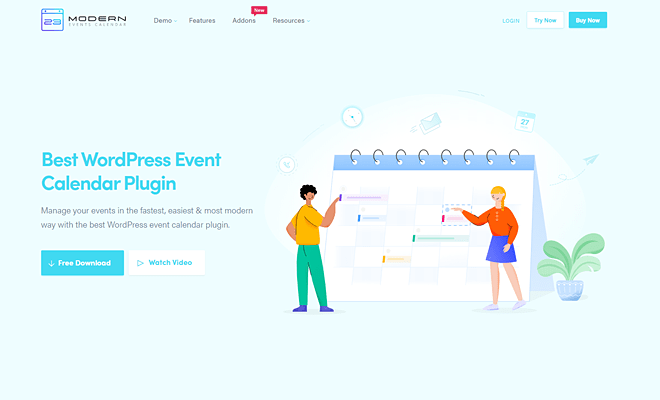 Modern Events Calendar added more than 40 calendar views, all based on the latest design trends in the world of web design, offering a unique experience to its users. It is available in both free lite version with WordPress and premium version. You can change the default calendar view in settings and customize your calendar style to fit your WordPress sites more than ever. All layouts are fully responsive, which means your customers can conveniently make reservations from any electronic device.
The plugin gives you a powerful booking system with a simple creation interface that allows you to create calendar events quickly and easily. Integration with Google Maps is also provided and Google Calendar gives you the option of connecting a physical location and connecting two services. Share events on both platforms. In addition, the plugin supports integration with PayPal and WooCommerce.
Modern Events Calendar has two versions:
2. The Events Calendar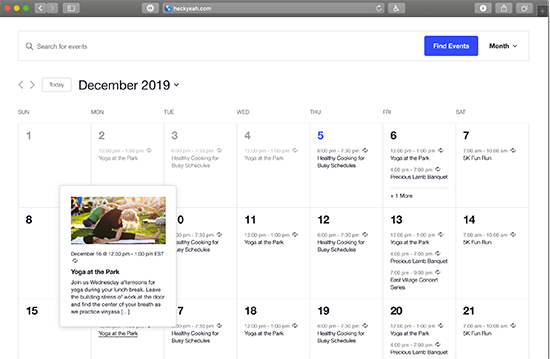 Event Calendar is the most popular event plugin on WordPress.org. It is active on more than 600,000 websites. It comes in a free and a premium version, so you can access the functionality as much as possible. as you need it in your WordPress websites.
In the free version, you can create unlimited calendar events.
You can save venues and organizers to easily reuse them for future events
And to showcase your events, you get the eponymous calendar view, as well as an upcoming events list widget to use in your sidebar.
Another notable feature is the ability to save events to Google Calendar or iCal.
The Event Calendar has two versions:
3. Event Espresso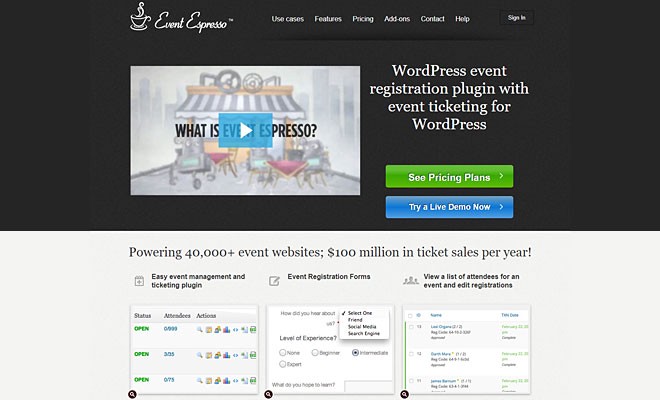 The third plugin on the list of the best WordPress event calendars is Event Espresso. Event Espresso provides you with a detailed event management system that includes:
A specific time or all-day events
Location/venue information
Multiple days and times for a single event
Google Maps integration
With the help of this events calendar, website administrators can easily manage their events and set different ticket options and prices.
Also, the WordPress plugin allows you to set up different groups upon registration, set up different times and dates for an event, use simple checkout pages, set up different ticket types for users, and send confirmation emails to buyers.
This WordPress events calendar has multiple configuration options for multiple ticket rates and selling multiple tickets at the same time. The Event Espresso plugin has a great payment processing feature that collects all revenue from each port and integrates it into one consistent system, and allows attendees to pay their bills offline as well. This plugin also handles all payments.
4. HubSpot Meetings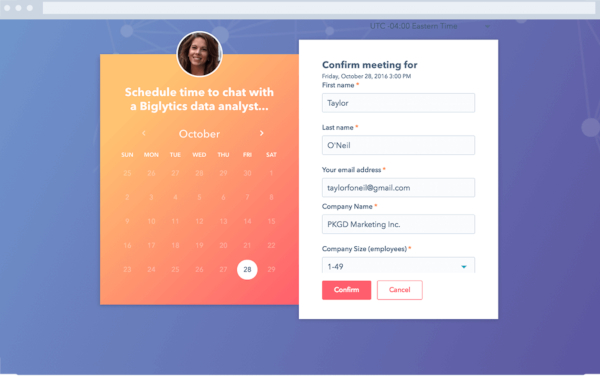 HubSpot Meetings is a standalone meeting scheduler, although it integrates with WordPress via the HubSpot WordPress plugin. While the free version allows you to create a unique meeting link with your calendar and availability, the paid version allows you to set up and embed a calendar on any website (including your WordPress website). You can customize the form that users must fill out, the dates and times they can schedule meetings, and when the attendee will be reminded of the event after registering. You can also direct attendees to a specific landing page after they fill out the meeting form. The real benefit of this tool is that it feeds data and
meetings into a free CRM, so you don't have to worry about merging data from multiple sources.
When you have to wear a lot of hats, this level of organization and seamless integration is a huge productivity benefit.
5. All-in-One Events Calendar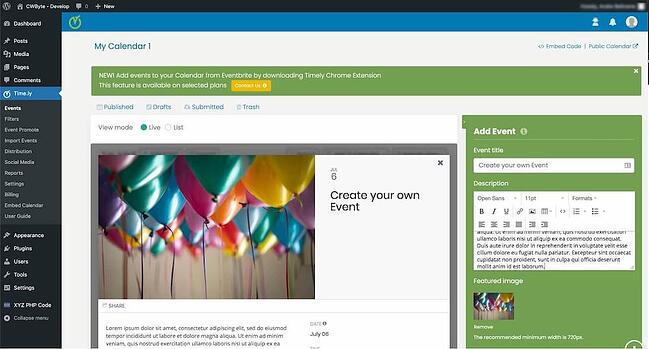 The all-in-one events calendar is ideal for reaching large audiences and a great option for freelancers and entrepreneurs looking to start or grow their events-related business. Offers multiple views of your calendar by event, day, week or month, all of which you can easily filter. Once you fill out the initial form on the backend, the plugin will create an event on your calendar. Events can include dates, times, locations, tags, categories, and contact information, as well as images, videos, spreadsheets, documents, and meeting links. You can also color code your events so you can easily track when events are happening and which campaign they belong to.
This plugin you can integrates with iCal, iCal, and Google Calendar. There is also a Google Maps integration that allows users to see exactly where an event is taking place. Also, the plugin is SEO-optimized and responsive, so your webpages and events will rank higher in search engines.
Related Articles
Best Free WordPress Hosting In 2022

How To Create a Full screen Overlay Navigation

Smooth Scrolling Effects with only CSS

Sticky Navigation Bar On Scroll Using JavaScript

Upgrade MySQL 5.7 to 8. on Ubuntu very easy step